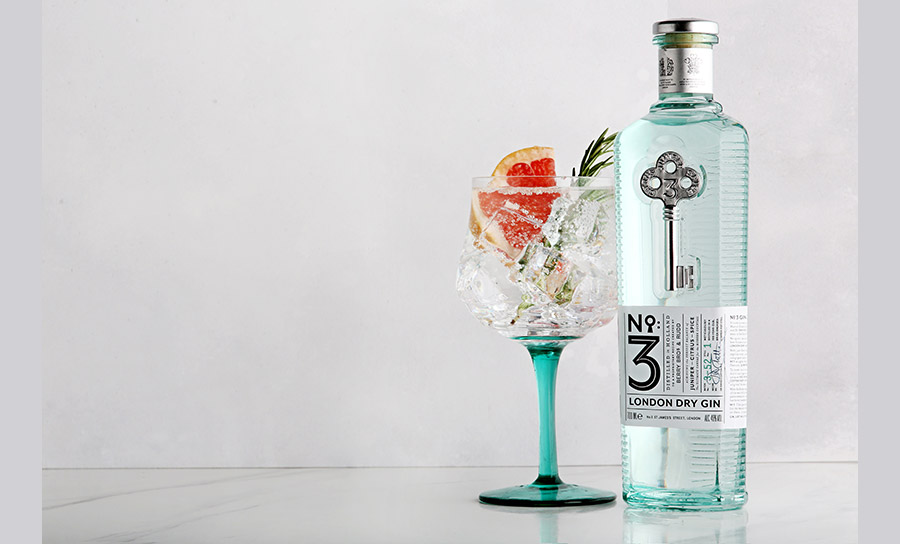 As the staple of any great drinks trolley, gin has amassed a loyal following, but how do you know you're choosing the best for you and your friends? Cue No.3 London Dry Gin - recently voted the World's Best Gin for a fourth time, and the first Gin to win the prestigious 'Supreme Champion Spirit' award following a blind taste test at the International Spirits Challenge.
If the recent awards weren't enough, No.3 is releasing a distinctive, new bottle design and creative campaign to further enhance its credentials as the beacon of quality in the increasingly cluttered and confusing world of gin.
The new hexagonal bottle design reflects each of the six botanicals in the No.3 recipe, and the crisp turquoise colour signifies the refreshing flavours of juniper, citrus and spice delivered with perfect precision for the ultimate Dry Martini or a delicious Gin & Tonic.
The name and iconic key remain front and centre, proudly reflective of Berry Bros. & Rudd, the brand creator's home at No.3 St James's Street for over 320 years, and personal promise from No.3 that the gin is of exquisite quality.
Inspired by the distilling artisans behind its award-winning liquid, No.3 has introduced a new campaign entitled The Art of Perfection.
Working with a scientific photographer, No.3 has created a unique series of striking imagery through a process that explores the gin in microscopic detail and transforms the crystal clear liquid into a dramatic landscape of colour. It is these finer details that separate the exceptional from the acceptable and make No.3 a liquid masterpiece.
The launch of the new No.3 bottle and Art of Perfection campaign commences in September with sponsorship of London Design Festival, and exclusive availability at several of the World's Best Bars including Artesian, The Savoy, Dukes and The Ned. This will be followed by a series of art and design collaborations later in the year. From October, the new No.3 bottle will be available nationwide at an RRP of £35.