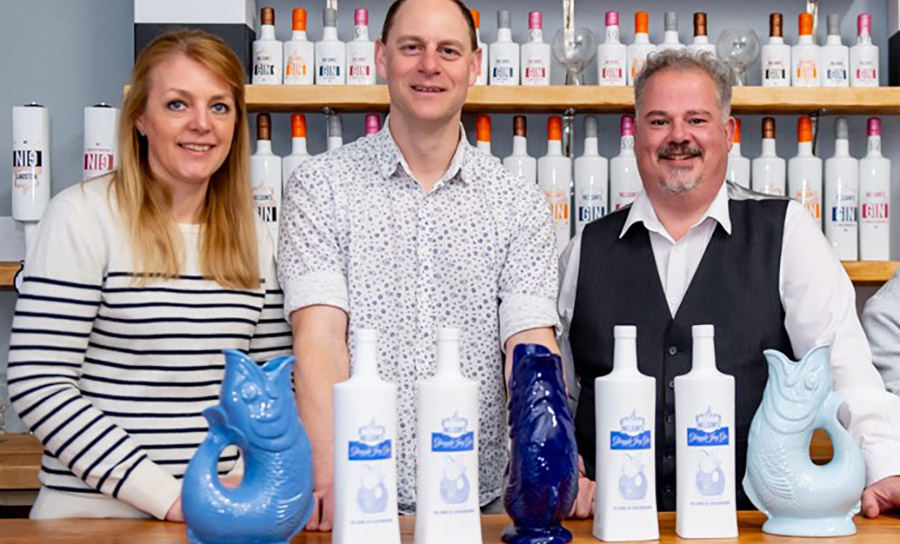 Today, Monday, 9th September, ​Staffordshire-based Nelson's Distillery & School (www.nelsonsdistillery.co.uk) have begun selling the long awaited Gluggle Jug Gin.
Gluggle Jug Gin is available for sale from Nelson's Distillery, retailing at £ 40.00 for a 70cl bottle. https://nelsonsdistillery.co.uk/product/gluggle-jug/ It will also be included in the Gin & Vodka school sampling experience.
Created in collaboration with Craft Gin Club, the famed gin subscription club which successfully won the investment of Dragon's Den's Sarah Willingham, Gluggle Jug Gin featured in their June Gin of the Month box, and sold out within just 1 day.
L-R Craft Gin Club co-Founder John Burke, Founder & Master Distiller Neil Harrison, Dragon's Den investor Sarah Willingham and Craft Gin Club co-Founder Jon Hulme at Nelson's Distillery, following their creation of Gluggle Jug Gin
Known as 'The Spirit of Staffordshire', Gluggle Jug Gin is a smooth blend of botanicals including green cardamom, sweet orange, grapefruit, lemon, hibiscus, lime, pink peppercorns and star anise, giving it a vibrantly citrus, lively flavour. This bold beverage is rendered even more special given its unique vessel: it comes in an elegant white ceramic bottle created by Wade Ceramics, celebrating the heritage of craftmanship in the Staffordshire Potteries and the 250-year history of the Gluggle Jug, also giving the gin its name.
Neil Harrison, founder and master distiller said of the latest gin addition, "this gin was created to celebrate Staffordshire. It is a very light, zesty gin, which complements the traditional gin and tonic - though my preference is to serve it neat, on the rocks, with a citrus twist. We are very proud to be selling it in house following its enormous popularity with the exclusive Craft Gin Club partnership".
The team are supporting the launch with a competition run across their three social media channels, Facebook, Instagram and Twitter. Participants will be invited to win a 70cl bottle of Gluggle Jug Gin #WinYourGin by sharing a video of themselves attempting the Nelsons Tongue Twister - say "Gluggle Jug Gin" ten times fast!
Twitter: @Nelsonsgin
Facebook: @Nelsonsgin
Instagram: nelsonsdistillery
Nelson's Gluggle Jug Gin joins the Nelson's Distillery & School portfolio which includes Nelson's Gin (London Dry), Navy Strength Gin, the award-winning Rhubarb and Custard Gin, the Triple award-winning Timur Gin, the Limited Special Edition Gins, the Signature Blend Rum and Nelson's Roasted Pineapple Rum.
Prices start at £40 per 70cl bottle.​ All can be purchased online at https://nelsonsdistillery.co.uk/nelsons-shop