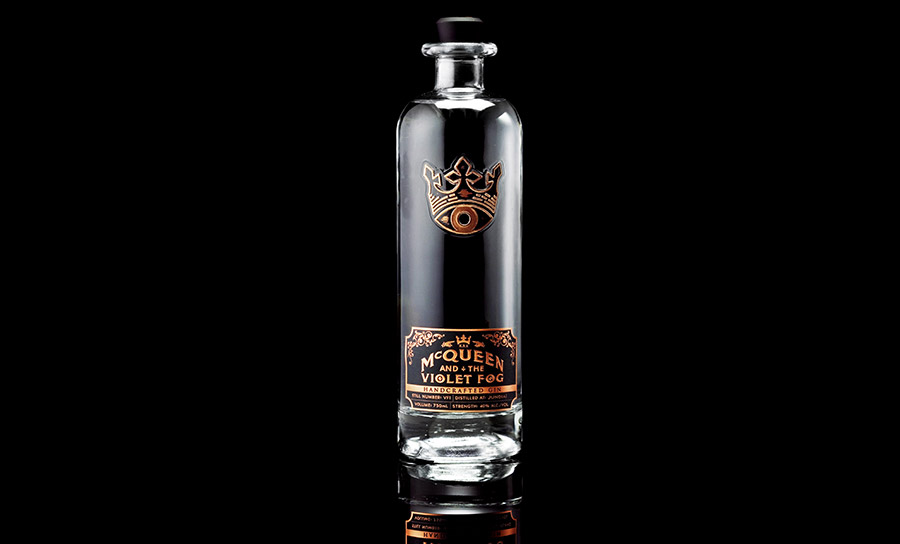 Jundiai, Brazil (January 16, 2019) - McQueen and the Violet Fog, the future of gin, has arrived. This revolutionary spirit sets a new standard for complexity, smoothness and taste with an unmatched 21 different botanicals, at least six of which are found in no other gin. Handcrafted in the hills of Jundiai, Brazil, McQueen and the Violet Fog is made thousands of miles away from the traditional, UK-centric gin world.
McQueen and the Violet Fog is a true small-batch gin with a unique distillation technique. Limited to 500 liters per batch, using a traditional copper pot still, two unique methods are combined into a single distillation process to achieve an unrivaled flavor profile. First, fifteen premium botanicals are macerated in an ultra-smooth neutral sugarcane spirit to extract flavor compounds and essential oils. Next, six additional signature botanicals are infused into the gin via vapor infusion through a copper basket. The result: the ultimate gin: ultra-smooth, complex and well-rounded.
McQueen and the Violet Fog's unparalleled combination of 21 different botanicals offers a completely unique experience. In addition to classic gin notes of juniper, citrus and flowers, McQueen and the Violet Fog features six signature botanicals found in no other gin in the world. From basil leaves handpicked in India to Portuguese rosemary, Mediterranean fennel seed, calamansi from the South Pacific, star anise native to Vietnam, and acai locally grown in Brazil, each helps bring a unique element to this extraordinary gin.
The gin's psychedelic name is inspired by a mysterious poem of the same name, which details an encounter with a mysterious rock band. The poem's final two stanzas can be seen on the back of the gin's unorthodox bottle. The vessel is realized in crystal clear, heavyweight glass with a wide mouth, embossed details and foil stamping, featuring the distinctive "crowned eye" logo in metallic copper, a nod to the traditional pot stills used for the gin's creation.
"With McQueen and the Violet Fog, we're proud to unveil what we see as the next generation of gin," says Brett Berish, CEO of Sovereign Brands, owner of McQueen and the Violet Fog. "Instead of focusing on just one or two flavors, we chose to be ambitious. McQueen and the Violet Fog reveals something new with every sip: heat, spice, juniper, herbal, citrus and floral notes, all the touchstones of gin, balanced perfectly. We're proud and excited to share this wonderful gin with the world."
McQueen and the Violet Fog's creed is "Pauca Sed Bona" - which is embossed in glass on the back of the bottle and translates to "Few But Good," or "Quality Over Quantity," the governing ethos of this truly small-batch brand.
McQueen and the Violet Fog is now rolling out worldwide in bars, clubs, restaurants and retail.
Try the McQueen and the Violet Fog Signature Cocktail, the "Violet Fog"
Ingredients
40ml-60ml McQueen and the Violet Fog Gin
30ml Lime Juice
Ginger Beer to top

Method
Pour McQueen and the Violet Fog and lime juice in an ice-filled glass and stir. Top with ginger beer. Recommended Garnish
Butterfly Pea Flowers for violet hue